Asset security
WhiteBIT in the top 3 of the most secure world crypto exchanges according to cer.live
Stable trade
The core of our exchange trade were optimized with a large number of transactions. We have sufficient liquidity pool to work with major traders
Lowest commission
We provide the best offers and products for both new and regular users of our platform constantly increasing the number of crypto-enthusiasts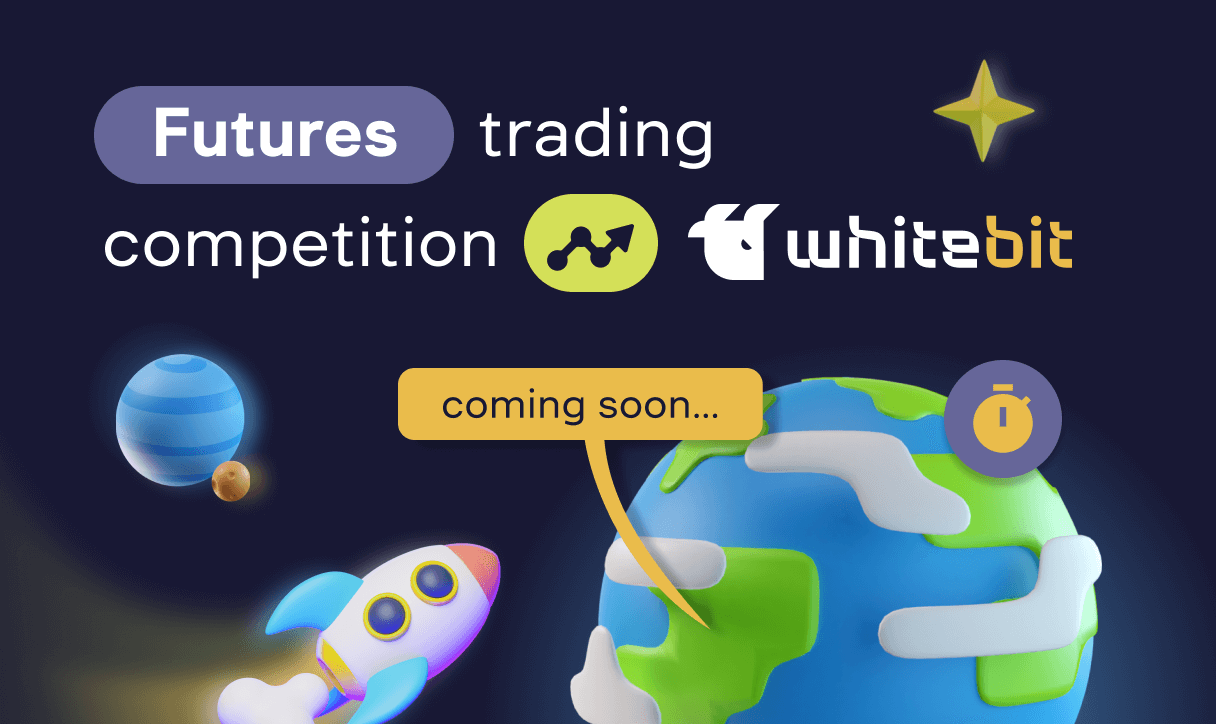 Futures trading competition
Compete and earn even more
We will announce a new futures trading tournament at WhiteBIT very soon
Participate
Road map
We are working to make all instruments of our exchange convenient and useful as possible. This is what the futures trading plan looks like on our stock exchange.
II quarter 2022

Start of futures trading

Futures trading has become available both on the web version and in our mobile application

II quarter 2022

Functional expansion

Adding new functions and order type

III quarter 2022

New pairs

You will find a wide variety of pairs for futures trading with the most popular crypto assets

2023

Expansion of the WhiteBIT Futures Universe

We will add more futures trading options to maximize your trading experience!
Any questions?
What are USDT-M perpetual crypto futures?
Perpetual futures are futures contracts with no fixed expiration date and price. There is also a mechanism that keeps the futures price close to the asset's price on the spot market, unlike classic futures contracts. WhiteBIT is a crypto futures exchange and currently offers USDT Bitcoin futures. USDT-M means that USDT is the base currency for settlements, and the prefix M means that trading with leverage is available for this type of contract.
How do perpetual cryptocurrency futures work?
Perpetual cryptocurrency futures are similar to our exchange's current margin trading mechanics: users can open Long and Short positions and use leverage. The main difference is that users pay a fee for using borrowed funds not to the exchange but to each other. It can be positive or negative, depending on the current market situation. This payment is made every 8 hours for all active positions.
What are the benefits of crypto futures trading?
Trading crypto futures is popular due to the following advantages:
- Low fees: on our exchange, they are lower than on the spot market.
- High earning potential: you can trade futures with up to 20x leverage and increase your earnings using less of your own funds.
- Risk management: you can hedge the risks by opening short positions on acquired assets
- Strategy flexibility: through futures trading, crypto can bring you profit in a bear market or small price fluctuations.
How to trade cryptocurrency futures on WhiteBIT?
To buy crypto futures, follow these steps:
1) click the Futures section in the upper menu of the exchange;
2) select the Buy tab;
3) select the order type, crypto that you want to buy, its amount, and the leverage;
4) click "Buy".
To sell futures, switch to the Sell tab and select the same order settings. In the upper right corner of the page, you will see the current funding rate and a countdown to its accrual.
Trade futures on WhiteBIT
The most profitable fees to get you started in futures trading
Go trading